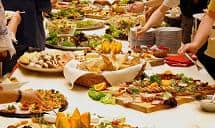 Kaytahring.com, providers of catering services in Albuquerque for corporate and social events have recently redesigned their website to showcase their services in a more detailed and organized way.
They can take care of the food menu, arrangements and decorations at your product launch party or business meetings in Albuquerque and Santa Fe (New Mexico).
If you have a wedding in family or a baby shower, bridal shower or even a retirement celebration, you can assign them the responsibility of making all arrangements (decoration, food and serving). This leaves you completely free to attend to your guests, making the event much more successful.
Hanif Tajdin, the owner personally participates in all the planning and puts a special touch to the arrangements to suit the occasion. The following quote from a client speaks it all.
"Hanif was very easy to work with, and he paid close attention to detail. Hanif and his serving staff were professional and knowledgeable. The food smelled wonderful from the moment they brought it into our home, and the mix of spices was delicious. Everyone at the party enjoyed the food, from the fruit and cheese plate, to the chicken, kababs, and roast, to the delectable desserts.

It was a big hit! Hanif and his staff assisted guests, cleared empty dishes, and cleaned up efficiently and thoroughly after the party. We were very happy to have Hanif cater our party!" – Kitty Sedam
Check out this catering service for your own functions and events.