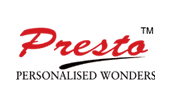 Prestowonders recently launched their web site for online selling of personalised gifts like photo gifts, photo frames and custom rubber stamps. There is a large collection of gifts for personal or corporate use and most of these can be personalised for the receiver so as to create a much higher liking for your gift.
Their corporate gifts range includes clocks and attractive photo frames that be inscribed with the sender and receiver's name. There are awards, plaques and trophies for the company awards ceremony.
They also accept online payment via credit cards and Paypal, so that you can order your chosen items online.