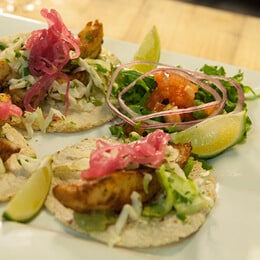 Krazy Lizard Taqueria has launched a new outlet in Albuquerque offering excellent Mexican food like seafood, tacos and burritos.
They use fresh ingredients and the tortillas and sandwich rolls are made in house with organic flour. Their Mexican gourmet sandwiches are a must try item as are the different tacos.
Krazy Lizard offers the hottest salsa in town and it is well worth trying once.
To maintain the Krazy prices, they do ask you to order at the register. However, you can eat inside or sit at one of the few tables outside to enjoy the sun.