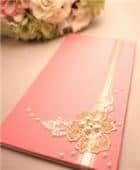 Tres Beau has launched an online store for wedding invitations, bridal accessories, wedding jewellery and stationary for the Australian market. The facility to view and order items online and get them delivered to locations in Australia like Sydney, Melbourne, Brisbane, Perth and Adelaide makes this a very useful service.
Whether you are planning your wedding or that for a close relation, you are hard pressed for time and the ability to choose items and order them online is very useful – the web site being available 24×7. You don't have to bother about store opening times and driving around.
Have a look at the extensive collection of the wedding invitations and take your pick.