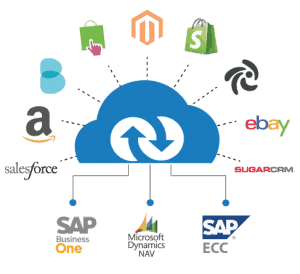 APPSeCONNECT has launched ERP to Ecommerce connectors that allow full 2-way data sync from ERP software like SAP, Microsoft Navision to Ecommerce platforms like Magento, Shopify and Prestashop.
Without good connectors, you end up doing manual data entry of things like orders received in the online store to the backend SAP system as well as stock updates in the online store application. This wastes time and can be disastrous during busy times like the holiday season.
The APPSeCONNECT integration platform has a unique benefit – it only stores your settings and your data directly travels to and from your ERP to ecommerce apps. This is a faster and more secure approach. It can also be used to synchronise your ERP with other CRM applications like SugarCRM.
They have several connectors like SAP B1 to Magento, NAV to Magento, NAV to Shopify connector etc. You don't have to commit right away. They offer a 30 days FREE trial option whereby you can see the ease of use, flexibility and power before going ahead with a long term arrangement. Here also you can choose to have a 1-time fee or a subscription option.
Request a FREE trial of the powerful integration solution here.