Smartpower is a 20 year old company offering home & office automation products. They have launched several security solutions recently and have already received accolades from all over India for their products.
Their f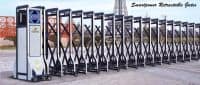 lagship product is automated sliding door used in factories and large buildings. These doors can be opened through remotes or switches. For malls and other public places, their parking fee management system has been a hit.
For home security, they have a large range of security cameras and remotely operated video door phones. The remote operated window blinds, infra-red lights and fans are very convenient for aged people at home who do not have to get up again and again to operate these.
In factories, they are able to provide automated doors of up to 1000 sq. ft. Different types of security cameras with wi-fi, Bluetooth and other technologies are very convenient.
They have recently launched caller tunes for branding your company to play your message to all callers of your company phones.