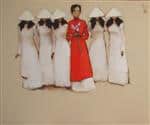 3 art galleries in Saigon, Vietnam have come together to launch an online art gallery where you can buy paintings online. The founder of the website (www.VietnamArtist.com) and owner of the three galleries, Ms. Tran Thi Anh Vu is a leader on the Vietnamese contemporary art scene for 10 years now.
The site displays paintings by several artists, on different subjects and these are available for online purchase from the store on the site. If a painting has been sold, you can request a new and similar painting to be commenced under your order.
The paintings are quite popular with art collectors around the world and the site has sold several paintings already. The biggest advantage of buying from this site is that you will be able to procure an original art piece.
Check out the online art gallery here: www.VietnamArtist.com